By He Hong Yu, Ph.D.
Five Colours Earth, General Manager
Background
When my Canadian husband, Joe Carter, and I first opened Five Colours Earth in late 1996, we bought and sold various Chinese crafts, including embroidery made by minority peoples from Guizhou Province.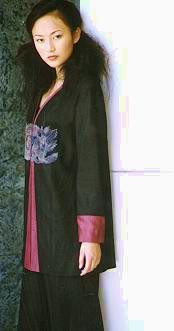 I had been there in 1987 as a graduate student of architecture but never dreamt I would start to use their embroidery in fashion design. Good sales helped us pursue this direction until it became the focus of our work. About half of our clients are Beijing expatriates and another half are local Chinese customers.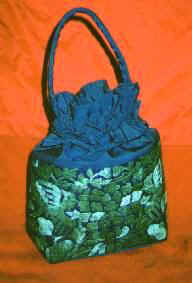 We design every piece individually and produce in small lots, drawing on our collection of antique embroidery (Beijing's largest). We also design and produce bags, cushion covers, and wall hangings. Our designs seem to fill a need for something modern, wearable, and with some oriental feeling.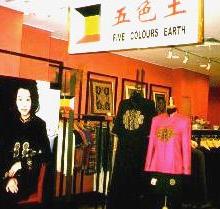 In 1998, at the invitation of several Beijing department stores we opened Five Colours Earth branch boutiques. While this expanded our sales capacity and out-put, we maintained the individually made character of our pieces. In early 1999 we opened outlets in two other Chinese cities and we have high hopes for China's market potential. Encouraged by our foreign customers we have begun to reach out overseas.
Design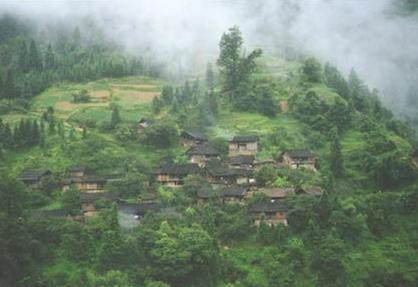 The first time I saw a piece of the Dong people's embroidery I felt someone knocking on the door of my heart. Although I didn't really understand, but I could feel, a hundred years ago, there was a girl on that big mountain trying to tell us something about her life, her dream, her wish for the next generations.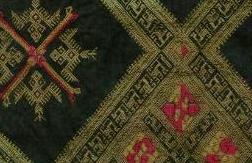 When I start to design, I feel I'm trying to continue this dialogue; I am like a messenger, preserving her wish and giving it a new form. Hopefully, people wearing Five Colours Earth clothing can also feel that girl's love of life.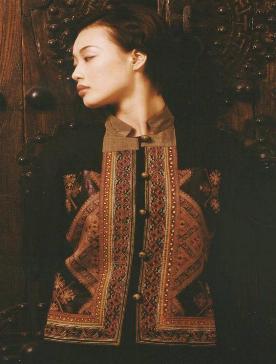 Five Colours Earth's fashion design is very personal: it starts from every piece of embroidery, also, it often aims at a specific customer. More than ten years training as an architect has helped me to be sensitive to color, texture, shape, proportion, balance, etc. I match the silk with the colours of the embroidery. The style is influenced by architecture's search for symbolic references to context and to heritage. I try to give every piece of clothing a tangible spirit of beauty and dignity.
Rescuing a Dying Craft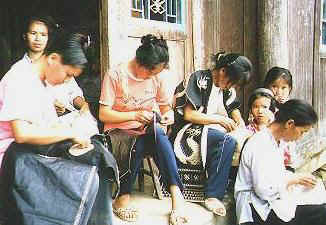 In addition to trying to create a new direction for Chinese fashion design, one of our main objectives is to contribute to the regeneration of Guizhou embroidery. These beautiful embroidered crafts from the mountains of Guizhou Province are rapidly becoming extinct as the young Miao and Dong minority people abandon their traditional, rural way of life for the economic and education opportunities in large ities. It seems a paradox that the richest craft comes from the poorest places; that one of China's most significant crafts is now mainly produced by those most marginalized by modernization; namely, poor, rural, mostly elderly women.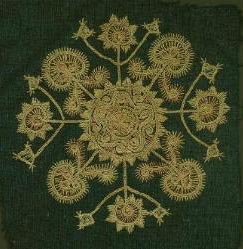 We hope the establishment of markets for this type of craft will encourage some youth to stay at home and acquire the craft skills of their region before they are lost forever. As we established trust with some of the minority people who supply us with antique embroidery, we experimented with orders of new embroidery. Now 30% of the embroidery we use is newly made, while 70% is still antique (30 to 100 years old). The new-made embroidery uses traditional patterns but is of a size and configuration suitable for our designs.
Pan Xi ("CC"): A New Partner and Manager
After receiving a bachelor degree in Architecture in Hong Kong, CC never pursued work as an architect. Instead, she pursued the liberal arts with great energy; engaging in studies of modern art, interior design, and fashion design respectively in Hong Kong, the United States, and France. Her "vanguard" personality, with a slight sense of the rebel, kept her from locking into any particular field.

A shirt bought in Pacific Place, Hong Kong, changed her future forever. This pure silk garment combined a modern look with antique embroidery. She appreciated this it very much, wearing it often in Paris, and received admiring comments from many people.

By chance, through a mutual friend, on a trip to Beijing she visited Five Colours Earth Fashion (五色土). There she found the designer of her shirt, He Hongyu! CC decided to end to her leisurely random lifestyle, left her homes in America and Paris, and became He Hongyu's partner in Beijing. She has been with Five Colours Earth since 2005, and has a hand in design, production, and marketing; contributing her fashion vision and acute market sense.
"One aspect of globalisation is that it provides an opportunity for local culture to enter the global mainstream, to the mutual enrichment of both. What is exciting about your work is that it provides a platform for Miao culture to be brought to the rest of the world not as museum artifacts but as cultural products which are contemporary and (one hopes) commercially viable. If successful, this approach offers the best opportunity to keep the local culture alive, by allowing it to become a thing of economic value to the local people, and by refreshing it through interaction with non-traditional media. One problem with traditional handicrafts is that they have a tendency to freeze a culture in a series of clichés.
If the designs are accepted in the fashion marketplace -- far from a sure thing, of course -- this would do more to bring Miao culture to the world than any number of museum exhibitions. And why not? After all, the designs found on women's fashions have to come from somewhere... The global marketplace has room in it (and, in fact, an appetite) for many different aesthetics". Jeff Nankivell
"Much like the role played by the gene pool in the biological life of humankind and its environment, the immense wealth of cultural diversity achieved over thousands of years is vital to the social and economic development of a human race experiencing its collective coming-of-age. It represents a heritage that must be permitted to bear its fruit in a global civilization. On the one hand, cultural expressions need to be protected from suffocation by the materialistic influences currently holding sway. On the other, cultures must be enabled to interact with one another in ever-changing patterns of civilization.
The Prosperity of Humankind, Baha'i International Community, 1995.
Text of article from Asian Business, September, 2000
The Earth Mother
A Beijing entrepreneur seeks inspiration in the traditional crafts
By Jane Ram
I felt someone knocking on the door of my heart," says He Hongyu of her introduction to the traditional embroidery of China's Dong minority people. It was more than a decade before she was able to answer the call, but when she did, it led the former town planner in a totally unexpected direction.
In late 1996, tired of dealing with bureaucrats and sickened by the rampant corruption that she saw every day in her work on urban-renewal projects for Beijing municipality, He felt it was time to do something new. She and her Canadian husband invested 500,000 renminbi (US$60,500) into founding their own company, Five Colours Earth (based on the traditional five Chinese elements). They leased a lofty shop space in Beijing, where they could run a workshop to teach children traditional crafts like paper-making and pottery. On the side, He and her husband sold folk crafts, including antique Dong embroidery.
She first visited the mountainous Dong territory in China's land-locked southwest province of Guizhou during her field research as a young post-graduate student of architectural design. She completed her doctoral thesis in urban management, and went on to work for Beijing municipality, but she did not forget the remote villagers and their vibrant cultural life.
Far from being an overnight success, her new business did not even make enough money to cover the rent during its first six months. "Just selling things is not so creative and we couldn't compete with the minority people, who come to Beijing to sell their embroideries in the street," He says. Her husband took a full-time job to support the couple and their two children, while He looked for ways to add value to the embroideries by framing them and making them into cushions.
"I have no fashion background and I never had any confidence about clothing design," says He, whose own taste tends towards tee-shirts and jeans. Nevertheless, she sketched a couple of garments incorporating antique embroideries. A tailor made them up and customers bought them. The next sketches proved equally successful and it was clear that this side of the business had great potential.

Two years ago, to test a wider market, He participated in a Beijing fashion contest. "The garments were still being made one by one, but we brought whatever we had. It attracted a lot of attention, people found we were doing something new. Quite unexpectedly, a big department store invited us to set up an in-store boutique. We were still very small and we really didn't have the capacity for this. But it forced us to take ourselves seriously. The department store was very strict and professional about everything from the labels to the workmanship. We had to jump to another level."

In the beginning, foreigners were He's main clientele, but after the fashion contest, Beijing consumers have become more interested in the timeless ethnic look of Five Colours Earth; more than half the customers are now local. The company has expanded its operation, with two more shops plus a number of in-store boutiques in Beijing, and stores in Xian, Dalian and Shanghai. The husband-and-wife team has formed a Sino-Canadian joint venture and has representatives developing their business in Hong Kong and North America. The original shop is a testing ground, says He, drawing customers from all backgrounds and age groups.

She plans to continue making expensive, one-off garments using antique embroidery (anywhere from 30-100 years old) as well as more everyday, affordable clothing using modern embroidery. Selling inside China is easy says He. "We just pack and send the goods. But exporting is complicated; the quota system really hurts small businesses like ours. We are at the high end, with everything individually made. When we are asked about our volume we say maybe 200 pieces, but they start (allocating quotas) with 10,000 or more. We are trying to find a way around this."

He always resisted the idea of applying for any kind of subsidy or loan to help the business along. "If we can't survive in the market economy, if we're not sustainable, we're doing something wrong," she says. "And what would we do if we couldn't repay the money?"

Despite her unorthodox approach to business culture, He's determination has paid off. She says Five Colours Earth is now doing well. For the moment, most of the income is reinvested in acquiring more embroideries. She is pleased to have established a good working relationship with Dong villagers in the meantime, commissioning traditional work from the local craftswomen. "In the mountainous area, the arable land is scarce and the women have no other way to earn money. We order maybe 300 pieces at a time.

"We're not sure how many women do the work, maybe 100 or so. We'd like to deal directly with them, but the men say the women don't know about business, they can't even make phone calls."

The enterprise remains small with only about 30 seamstresses and tailors. "We need to grow," He says. "The next step is more professional management. And we have to work on improving our workmanship and patterns."
The Five Colours Earth Logo
The symbol and name of Five Colours Earth Fashion comes from an altar with the same name in the Forbidden City in Beijing where the Emperor used to pray for good harvests. It is a large outdoor platform with the actual soil from five different regions of China arranged in a symbolic map: yellow earth in the center surrounded by red to the south, blue to the east, white to the west, and black to the north. The colours also represent the five main peoples of China and the five basic elements in Chinese cosmology: water, gold, fire, wood, earth. It represents for us a strong, unified combination of differences. In 1990, Joe sketched the design into the back of his pocket phone book waiting for a chance to use it. Finally we found one! Not only is it our name and logo, we have applied the colours to the interior and furniture design of our shops.